Manoj Tiwari (BJP), NE Delhi
NEW DELHI: On the penultimate day of filing nominations on Monday, six AAP and three BJPcandidates registered themselves for the poll race. And it happened with much fanfare, at least for the BJP candidates.
In fact, the nominations of both were a study in contrast: BJP candidates came in colourful cavalcades flanked by hundreds of supporters; AAP candidates were accompanied by a handful of supporters, and despite some sloganeering, it was comparatively a muted affair.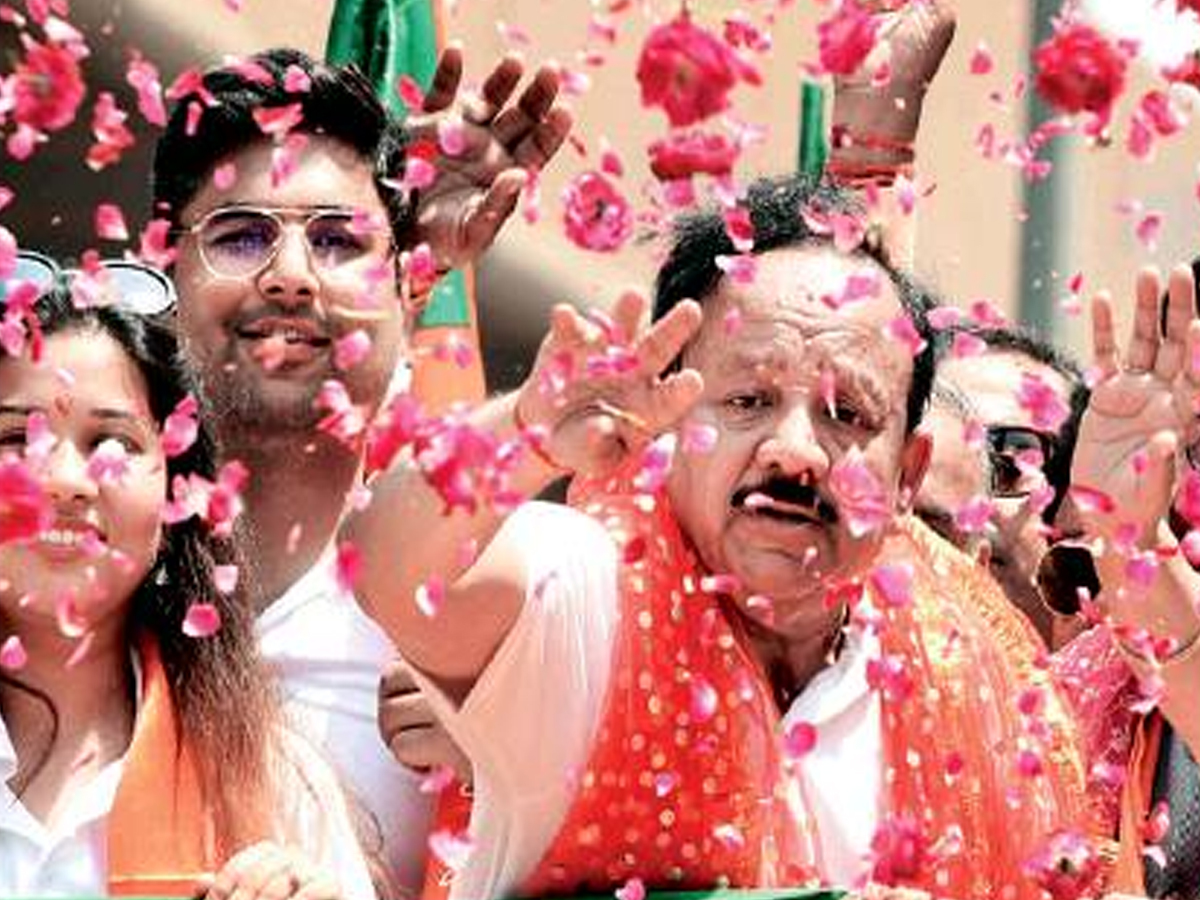 Harsh Vardhan (BJP), Chandni Chowk
Chandni Chowk MP Harsh Vardhan moved towards the Alipur SDM office to file his nomination with a long tail of cars, bikes and trucks carrying numerous supporters. Slogans of 'Modi, Modi' rent the air as flower petals rained along the road as Vardhan waved to the people from atop a truck.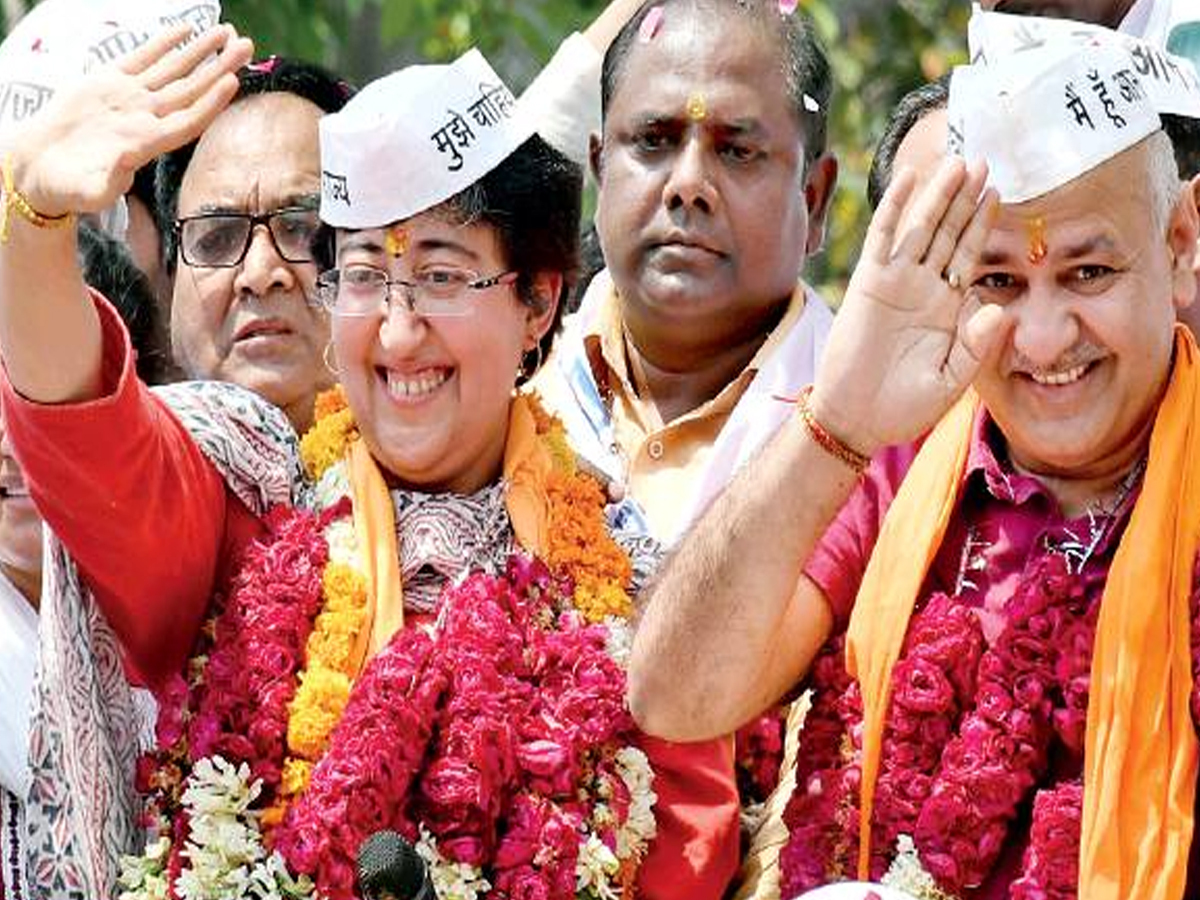 Atishi (AAP), E Delhi
He said later that people became 'chowkidars' after the PM asked them to change their outlook. "Many are benefiting from Modi's policies and see him as a messiah," the Union minister said.
His rival, AAP's Pankaj Kumar Gupta, came with barely 15 people. But he and his supporters were still positive. "Unlike five years ago, people are not inclined towards BJP," Gupta said, adding that as an MP he will work towards cleanliness, will help traders affected by the sealing drive and the people who lost their jobs because of this.
Gupta sounded positive about winning, but said a Congress alliance would have helped his party.
Delhi BJP chief and North East Delhi MP Manoj Tiwari reached the office of the district magistrate in Nand Nagri on a truck braving the sun, accompanied by Union minister Vijay Goel, leader of opposition in Delhi assembly Vijender Gupta and Haryanvi singer and dancer Sapna Choudhary, apart from hundreds of supporters. They raised 'Modi, Modi' slogans and showered the MP with rose petals. Tiwari called himself a "soldier of Modiji" as he filed his nomination. In fact, with so many supporters crowding the place, security personnel had a tough time controlling the crowd.
On the coming triangular contest between him, Delhi Congress chief Sheila Dikshit and AAP's Dilip Pandey, Tiwari said it will be "interesting". "What has she (Dikshit) done in the 15 years? The pitiable condition of Delhi is only because of them. There is so much pollution, no buses and the city is unsafe for women," Tiwari said.
He also claimed that he was the one who brought the metro to northeast Delhi for the first time, apart from the Signature Bridge.
Pandey had a less dramatic entry at the DM office. But he also trained guns on Dikshit and said she, who is over 80 years old, should have made way for a younger candidate. He also urged people to analyse the 2014 election results in which Congress stood third in North East Delhi. "Even if 100 votes go to Congress, it will only help BJP. If votes are divided, people will lose out," Pandey said.
In South Delhi, AAP's Raghav Chadha filed his nomination without any fanfare. Only a day earlier, though, he had taken out a massive road show. But on Monday, his supporters said they did not want to create traffic hurdles on the busy Mehrauli-Badarpur Road. Chadha arrived at the Saket DM office in a small cavalcade of three cars around 1pm. Amid slogans of 'Yuva Shakti Zindabad' and demands of full statehood for Delhi, Chadha said he is filing nominations to take forward the development chariot started by Arvind Kejriwal. "90% of the area in South Delhi LS constituency no longer has water, sewage or electricity issues thanks to the AAP government," Chadha said.
He said he will fight the election on five issues: regularisation of unauthorised colonies, transportation connectivity, women's safety, unemployment and full statehood. "We want to rid the area of politics of goondaism. Since law and order comes under Centre, we will create an environment in which women can get out even at 11pm without any fear," Chadha said. It was announced that the south Delhi unit of AAP will present a local manifesto soon.
The only exception for AAP was Atishi Marlena. In East Delhi constituency, a huge crowd turned up for her roadshow as she went to file nomination at the DM office in Shastri Nagar. Women supporters came out in large numbers to support her and showered flowers on her. Most of them were members of Delhi government's school management committees.
Marlena, accompanied by deputy chief minister Manish Sisodia on a truck, stopped to offer prayers at Valmiki Mandir, Trilokpuri, first. They were shortly joined by nine AAP MLAs, including speaker Ram Niwas Goel, Amanatullah Khan and two councillors.
Most of the supporters gathered under the metro station overbridge to escape the sun. Some hopped street food joints, which resulted in AAP arranging for a biryani lunch.
A dummy candidate named Tarishi Sharma (26), an alumna of St Stephen's College who has been working with Marlena's education programmes for the past two years, was also nominated by the party.
["source-timesofindia"]