Yusuf Pathan stormed into the scene after his impressive striking prowess in domestic cricket but the knock that made him a household name was a scintillating 37-ball 100 in a run-chase for Rajasthan Royals in the 2010 edition of the IPL. Though Rajasthan lost that match, Yusuf made a striking impression with his knock and was scooped up by Kolkata Knight Riders in 2011.
Yusuf's T20 career has slowly derailed over a period of time culminating in KKR dispensing him in 2017. He was picked up by Sunrisers Hyderabad, known for bringing the best out of their players. But with Yusuf, it has been different. The veteran all-rounder has had little impact for SRH and has not grabbed the few opportunities that have come his way.
A lower middle-order batsman's role in T20 cricket is highly volatile. He is expected to shore up the batting after a collapse or go berserk in the death. Yusuf has done neither this season for the Sunrisers. He has had chances to make an impression like on Saturday against Royal Challengers Bangalore in the death overs but threw it away for his seventh single digit score in the season.
Yusuf has come to the crease in 8 out of 10 matches this season but has scored more than 10 only once. He has had little time to impact the match at times which is exemplified by five not outs but even when he has had a few overs, Yusuf hasn't made it count.
His average of 13.33 is his lowest in all 12 years of the IPL. He has only faced 45 balls this season but scoring just 40 runs off them is inexcusable for a player expected to score quickly. Yusuf's strike rate of 88.88 is also his worst in any season of the IPL.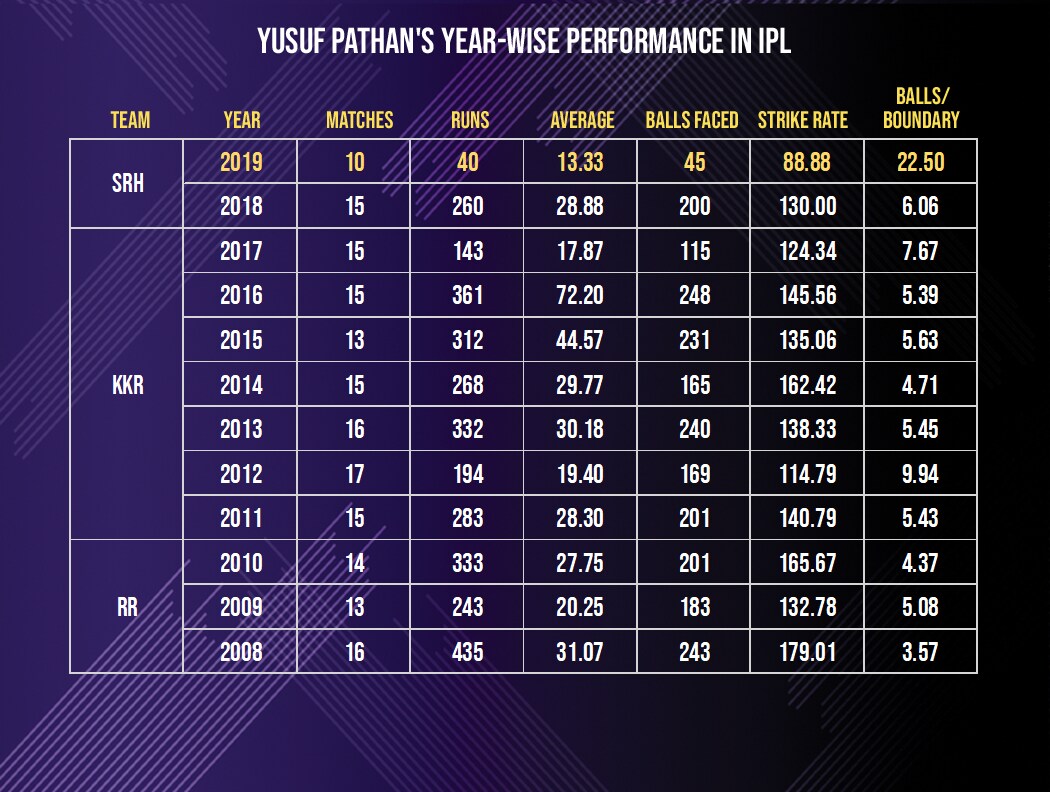 He averages a poor 27.00 since joining Sunrisers Hyderabad and the kind of knocks that made him a valuable player at Rajasthan Royals and Kolkata Knight Riders have gone missing in a top-heavy line-up. His inability to make boundaries is another glaring fault this season with him scoring just two boundaries in the 45 balls he faced this season. Yusuf needs to justify his role in the side if he wants to continue in the IPL. His couple of years with the Sunrisers have not inspire confidence so far.
His poor fielding has also cost the team and against RCB, as he dropped Shimron Hetmyer on 60 and the big hitting West Indian went onto get a match-winning 75 for his team.
["source=news18"]